A unique range of horse rides provide a host of exciting opportunities for visitors to Tasman Rides at Helensville.
Beach rides, forest treks, farm trails, moonlight rides - you choose when you come to Tasman Rides. With 140 hectares of working farmland, approximately 2600 hectares of forestry and 60km of rugged West Coast beach to ride on this is a return again and again experience.
All treks are led by friendly, knowledgeable guides, with helmets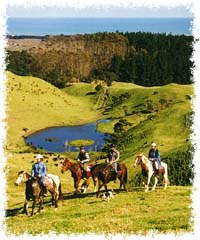 provided for your safety. Horses ranging from gentle-mannered ponies through to more equestrian minded eventers are available for hire. Meals can also be provided, along with arena-based riding lessons.
Farm treks are over clean, green pasture through grassy glades and along high points which provide spectacular views over the Kaipara Harbour, West Coast and Tasman Sea. Forest trails with names like "Boars", "Cicada", and "Teapot", all have hidden stories behind the names. If you are aiming for the beach you can leave Woodhill Forest, climb over the sand dunes and then ride along miles of unspoilt beach to Muriwai Village for a takeaway lunch.
TASMAN RIDES
Fordyce Rd, R.D. 1, Helensville
Ph: (09) 420 8603
Fax: (09) 420 8332
email: info@tasmanhorserides.co.nz
website: www.tasmanhorserides.co.nz