To local Maori the Helensville district was originally known as Te Awaroa - "The Valley of the Long River".
Pioneer timber miller John McLeod and his wife Helen built a single-storey kauri home in 1862 overlooking the mill established by John and his brother Isaac. This home was called "Helen's Villa" - a name which was quickly adapted and adopted by the town.
Since the arrive from Nova Scotia of the McLeod family members, Helensville has gone through three varied developmental stages.
First, until the turn of the century, the whole greater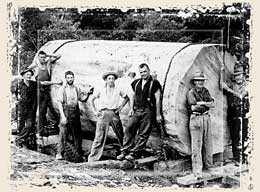 Kaipara area was where "kauri was king". Countless kauri logs were milled and shipped out from busy Helensville wharves.
The second phase coincided with the rise of dairy farming prior to the First World War and the realisation of the visitor potential of the natural hot springs at Parakai, 5km west of Helensville. The Kaipara Dairy Company, established in 1911, soon became the town's largest employer, while the thermal springs attracted thousands of visitors between the two world wars.
With the closure of the dairy factory in the late 1980s and the associated general decline in farming, Helensville has now entered a third stage of development.
A healthy visitor industry, spurred by a wide range of attractions and 'things to do', a growing appreciation of Helensville's special historic ambience, and its close proximity to Auckland City, means that the town now looks to tourism to lead it into the new millenium.
Helensville features scores of fine old buildings, especially kauri cottages and villas situated close to the town centre and some excellent commercial structures such as the Old Post Office building. The Pioneer Museum and courthouse provide a fascinating window on the town's past.
This has obviously been a very brief history of Helensville. Detailed information can be found in "Men Came Voyaging" by C. M. Sheffield (Capper Press, 1986).