A message from New Zealand's Prime Minister and MP for Helensville, the Hon. John Key:
I'm proud to be the Member of Parliament for Helensville, one of New Zealand's top 10 small towns.
Helensville is a dynamic town, growing faster than the national average partly because of its proximity to Auckland, New Zealand's largest city,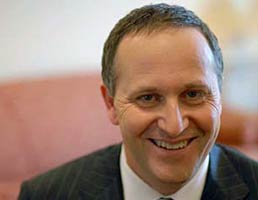 and other urban centres.
The surrounding area is a microcosm of almost everything New Zealand offers – with its vibrant wine industry, diverse horticulture, glorious beaches and coast, traditional farming, lifestyle blocks, hot pools at Parakai, booming café culture and growing industrial interests. There's even a gannet colony, near Muriwai Beach. And let's not forget its greatest asset – 77,000 New Zealanders, representing diverse ethnicities, who are actively involved in making this area one of the most attractive in New Zealand.
There's so much to do in Helensville. Our Pioneer Museum is full of fascinating detail about our forebears and the early kauri milling history – it's a 'must do' for anyone interested in our history. Helensville's annual A&P Show has run for more than a century; it's held on the last Saturday of every February and is a highlight of the local calendar.
For those who can't get here, local businesses such as Beesonline (honey) and MacNuts (macadamia nuts) despatch Helensville products all around New Zealand.
It's an exciting time for Helensville, with its rapid population growth matched by the wine and tourism industries. It's hardly surprising that this record growth has brought problems, such as the traffic congestion that I am determined will be solved, but it remains a great place to raise a family and a terrific place for a holiday.



Click here to visit John Key's website